Introducing Team IPR
International Pagan Radio is built upon the hard work of each and every one of its team members. Every host volunteers their time to bring you the fantasic shows you hear. Come join our Hostess Lady Brigid for her show Ask A Witch. If you have young children, you may also like Storytime with Rook, hosted by Rook MacMorrighan. Also, be sure to join Tracey and William as they team up to bring you the IPR Top 20 Hottest Hits.
Onyx
William Brigley
Sionnach
Lady Brigid
Sue Balaschak
Cloud
Midnight Starr
Onyx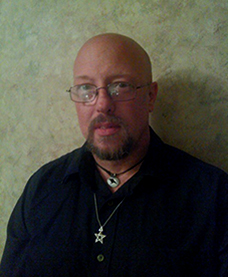 Having been raised Baptist primarily, Onyx (Rev. Chuck Chapman) stepped into the initiatory circle over 30 years ago not long after joining the military service. During the next decade, he focused on learning as much as could from his traditions teachings, and any other material he could find. He worked with many different Pagan traditions and a couple of magical lodges, in the United States and Europe.
Onyx left the military in 1995 and opened a metaphysical shop in his hometown, which doubled as a Pagan learning and community center. During this time, he also co-founded a traditionally styled temple. A few years later, the store was lost to fire. During this period, he left the temple he had helped found.
Through the next decade, Onyx took independent students and also founded two more covens on his own. In the early 00's, he joined a very public tradition where he continued to work until 2016. During his time with this tradition, he established a proto-temple, taught students through all three degrees, established a religious order within that tradition, worked with two other orders and a department. He also has BA and MA in psychology, with a specialization in conflict resolution.
During his time with this tradition, he received an invitation and accepted a position as a panelist with an online radio network. Soon after that, he established his own radio network that produced a weekly show. After leaving the original network, he partnered with another Priest and managed a network where he hosted two shows a week and co-hosted another. Shortly after leaving this network, he was asked to lead International Pagan Radio. He gladly accepted this request.
In March of 2016, he partnered with William Brigley to take over full financial responsibilities for International Pagan Radio. His management duties continue in conjunction with his partner.
Onyx enjoys the internet radio business and is dedicated to establishing community by helping to tear down walls and build bridges. He is an advocate of peace while realizing that conflict is necessary for growth. He believes that conflict does not need to devolve into violence, bias, or hatred. Humanitarian resolution of conflict and a greater community that is more inclusive, rather than exclusive, is a dream for which he works.
Onyx continues to work with people to help bring this vision to be. He also believes that once enough of us can see this concept as a reality and a way of life, that we will reach a sort of terminal mass. At this point, evolution will sweep over the entire race. Onyx challenges folks to be involved as we evolve. He often references the starfish on the beach story, and the hundredth monkey theory. He often says, "One starfish at a time, until the hundredth monkey." Onyx hosts the show Fireside with Onyx.
Back to top
William Brigley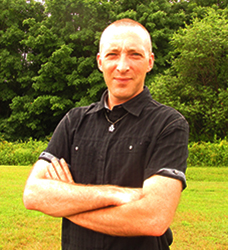 From Queensland, Nova Scotia, William Brigley comes from a diverse religious background, having explored various paths over the years, including earth-based belief systems. Years ago, he was also a columnist for the Correllian Times; which later became the Pagan World Times.
As a columnist, he researched various peer-reviewed journals, publications and legitimate sources on the topics of archaeology, anthropology and other fields and how it relates to modern Paganism. This monthly column was to be called Visions of the Past and designed to fill a niche in helping settle misconceptions and bring these discoveries to the forefront.
Later, he was invited as a Guest Host on Rev. Onyx's Lady of the Circle in the Oaks blog talk radio show. Shortly thereafter he would turn Visions of the Past into a weekly talk show. A self-taught graphic designer, he has done graphic work for various groups including the Correllian Tradition, the Spiritual Unity Radio Network, International Pagan Radio and many others.
Currently, he is the Media Manager and web developer for International Pagan Radio. William hopes to continue his work in internet radio and with bringing his information to the many communities. Together with his wife Tracey, he co-hosts the Top 20 Hottest Hits.
Back to top
Sionnach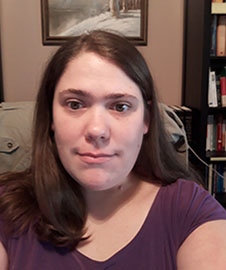 Sionnach has been on Team IPR since 2017, initially as one of the co-hosts of IPR's Top 20 Hottest Hits with William Brigley, Tracey Brigley, and Chuck Chapman. Since early 2018, she took over the clerical operations of the station as the IPR Office Manager.
In her professional life, she is a professional musician as well as a student finishing up her teaching certification. In her free time (Free time? What's that?) she likes to read, listen to IPR and classical music and play occasionally on the Playstation 4.
Back to top
Lady Brigid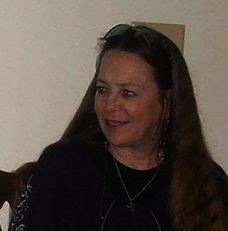 Lady Brigid Eldar is a wife, mother, grandmother and a lifelong witch. She is an Ordained and Licensed Minister performing weddings, hand fasting's, crossovers, memorials and Wiccanings.
Active in Pagan Ministries for several years, Lady Brigid performed rituals and classes in the institutions, and also was a part of the first Pagan Pride Day celebrated within a correctional institution.
She is the High Priestess and Matriarch of The Coven of Eldar (one of the oldest Covens in Columbus, Ohio). Rev. Lady Brigid is a Queen Mother and head of the Black Dragon Clan with many covens having hived off from her.
Being an empath, a witch and a tarot reader from a young age she was very blessed to be able to grow up being aware of and in tune with her Spirit Guides.
She is an Elder of the Pan Pagan Festival, (the longest running Pagan festival in the U.S.), held in Indiana. Lady Brigid has over 40 years of experience in public ritual work, public speaking, sponsoring events, and festivals, as well as organizing and teaching workshops.
She is a radio personality and hostess of The Ask a Witch internet radio show on International Pagan Radio with her cohost Lilybeth. Lady Brigid began Ask A Witch in the mid-80`s as a column for a magazine called Eldar's Cauldron. She is also a free-lance writer for The Pendle Craft magazine and other publications.
Lady Brigid considers herself an amateur herbalist and gardener, while being well educated in the art of using herbs, flowers and those so called weeds. Using these herbs and plants she makes many magickal products that have been tested, tried and used by many.
An attendee of the Columbus Community College of Columbus, Ohio, she majored in American Sign Language and Psychology. She is a graduate of the University of Life. She hosts Lady Brigid's Ask A Witch.
Back to top
Sue Balaschak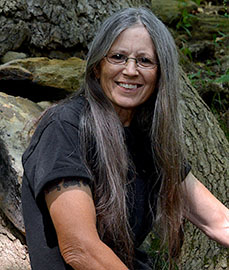 Sue Balaschak is the creator of Primal Rhythm and a founding member of Burning Sage. She has produced and engineered many CDs and records. She's also the manager and producer of Burning Sage.
Sue has been playing the drums professionally since the age of 12 and has taught drumming since she was 17. She has facilitated drum circles and taught drum workshops within the Pagan community for the past 20 years.
Sue is a solitary practicing pagan and has lived past lives amongst the Native American community, which heavily influences her in this lifetime. Through drumming, Sue has participated in and witnessed some amazing healing works for others. She has facilitated healing circles at Memory Care facilities and has performed journey work.
Sue blends her professional musical career and her spiritual life. She lives in Cleveland with her life partner, two canines, one feline and turtle, her totem. If she is not drumming, she can be found hiking in the National Parks or on the Appalachian Trail, with her backpack and her dogs. She co-hosts the show Drumming Ceremony with Burning Sage.
You can locate Primal Rhythm at: http://primalrhythm.net/
If you'd like to check out Burning Sage, visit: https://www.reverbnation.com/burningsagemusic
Back to top
Cloud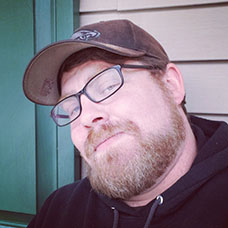 Cloud is a Pagan Rapper from the Southern New Jersey / Philadelphia Area. He recently joined Team IPR as the host of International Pagan Radio's YouTube Channel. He has been a practicing witch for over 20 years and High Priest of the Moon Willow Circle located in Southern New Jersey. ,/p.
A veteran of the U.S. Army, he is also listed at Joint Base MDL in New Jersey as clergy for soldiers on post, who are seeking other Pagans to practice with on base and or in thier local area.
His music was designed to push boundaries within Pagan Music by bringing a mainstream feel, His love for Hip Hop and love of his craft have combined to create a unique brand of Pagan Hip Hop with lessons about Witchcraft, combatting misconceptions, and raising awareness taking the forefront. He loves Pagan Music of all different forms, plays multiple instruments and sings.....a little bit.
His travels have taken him many places and he has studied in different traditions, thus making his path quite crooked and eclectic. He lives with his wife of ten years, nicknamed by his coven, "The Wife of Legends", has one daughter that acts just like him with scary precision and his two canine companions.
Follow Cloud the Pagan Rapper at: https://cloudrapswicca.bandcamp.com/
Back to top
Midnight Starr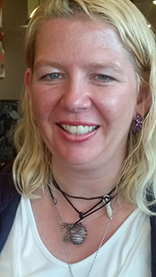 Midnight Starr is from Calgary, Alberta, Canada and was born to Catholic Hungarian parents. She started on the eclectic pagan path about 15 years ago and hasn't looked back.
She is the host of IPR's In Case You Missed It: Concerts @ Home and has her own podcast called "Music From the Goddess' Vault". She worked in radio for years before being laid off due to this Pandemic and is now pursuing her own Copywriting business at the moment.